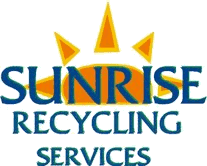 Making it Easy for You to Make a Difference!
Sunrise Recycling Services is a family owned business providing curbside recycling pickup to residents and businesses in the Greater Madison County area. We began this venture after recognizing the enormous difference that recycling made in our own household. After really getting the hang of it, we realized that the trash we were producing had decreased by at least 75% and thought that by making it easier for people, we could help others to achieve the same results. We actively seek, support, and engage in activities that promote recycling, and sustaining our resources because we strongly believe in the difference that we, as a whole, can make. Our goals are to educate our local community on the benefits of recycling, to increase overall participation, and to provide a service that is instrumental in preserving our environment.
We began providing full service curbside recycling in April of 2010. Over time, our services expanded to included electronic waste recycling, which grew to become our primary focus. In May of 2017, we turned the curbside pickup service over to another company in order to further narrow our focus on recycling electronics. At present, we provide service in Tennessee, Arkanasas, Mississippi, Kentucky and Missouri; helping to provide businesses, municipalities, school systems, financial & medical institutions, and others a secure and environmentally sustainable option for disposing of their electronic waste.
Sunrise Recycling Services, LLC P.O. Box 10213 Jackson, TN 38308 731.298.4683
The past seven years have been filled with a tremendous amount of hard work and challenges. We are so grateful to have the opportunity to serve our community, and we are humbled by the support that we continue to receive from our customers, the general public, and the City of Jackson. We could never have accomplished this without you, and for that we are sincerely thankful. When we work together towards a common goal, there is no end to what we can accomplish.
We look forward to serving you for years to come!

Sincerely,

Marcus & Amie Chandler